I love shoes! I have since I was little. I think my first memories were of some cute little cowboy boots that my mother wore when she was little. That and my little red purse, but I'll save purses for another post.
I have been on a hunt for a great boot for winter. Living down south in Texas you don't really need winter boots but
every now and then it gets cold enough that you want something to keep your feet warm.
So a few weeks back when we had our first cold front I went out on the hunt.
I was about to purchase a pair of UGGs last year but just seemed like too much money and it was getting close to spring so I was pretty sure I wasn't going to wear them. So when I started out this year, I went to the best place for shoes – Nordstroms! I fell in love with a $200 pair of UGG ankle boots but it wasn't what I was looking for. Very proud of myself for staying on track – to find a casual pair of warm shoes.
I had received a Croc catalog in the mail since I had ordered a pair for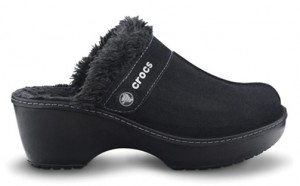 my kids this summer. Who knew – Crocs has boots?!?! I actually bought two pair! One for the original purpose – to keep my feet warm and wear with tight jeans and leggings then I found a cute pair of black mules to wear with jeans.
Even better,
both pair of shoes cost less than the UGGs I was thinking that I had to have. I really like these clogs, they are great with jeans.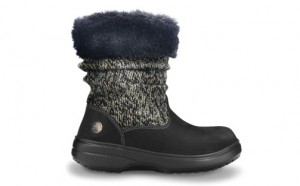 One of the problems I have with lined boots is that my feet get too hot. I haven't had that problem yet in my boots and I won't have that problem in the clogs. With the cold weather I find that my toes are the things that are really cold and these lined shoes fix that!