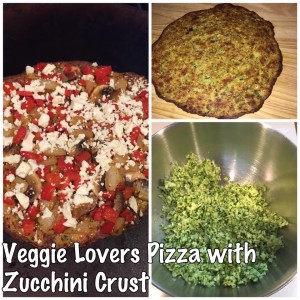 I am pizza obsessed. Probably the combination of grease and cheese? So – when I saw this weight watchers Veggie Crust Pizza, I had to try it! It was one of the recipes in our Weight Watchers Weeklys given at each meeting.
I should first admit (if you didn't already know) that I am not much of a cook. I like to try but I MUST have a recipe to follow and even then I can get distracted and it can turn out different. I LOVE trying new things. I really enjoy trying to cook. Few other things – I am not a huge fan of left overs and I need lots of flavor. So sometimes healthy or clean eating gets in the way of my addition to Mexican food.
For me, what makes this so yummy and unique is the pizza crust is a combination of zucchini, cheese and flour. It turns out crispy, cheesy and delicious!
This isn't a super quick recipe, but I think it was worth it. It is great for a weekend or to prep on the weekend and put together later. You can pre-mix all the crust ingredients and chop all the pizza toppings to have it ready to go.
This recipe makes 2 small pizzas and a serving is 2 slices of one. To me it was plenty filling and it was 7 Weight Watchers Smart Points.
I followed this recipe however, I am not a fan of goat cheese so replaced it with feta cheese. Still a strong cheese so a little goes a long way.
Click on the recipe to print